Before Extraordinary There Is Ordinary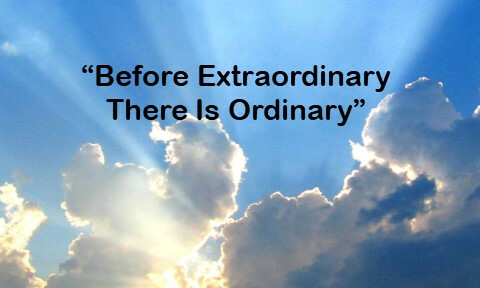 "Before Extraordinary There Is Ordinary"
When we read the Bible and take to heart what God has to reveal to us, it's easy to look at those characters as more spiritual than the rest of us. It's also easy to think that God had some type of special dispensation for them and not for us.
But to look at the Bible as a whole we see that God has a plan for all of us. Ephesians 2:10 (NIV2011) "For we are God's handiwork, created in Christ Jesus to do good works, which God prepared in advance for us to do." This belief also applies to the individuals of the nativity Story.
Let's consider Mary and Joseph for a minute. It is widely accepted that Mary was a young woman about to be married. She was a virgin. The angel said this, "Luke 1:28 (NIV2011)
28 The angel went to her and said, "Greetings, you who are highly favored! The Lord is with you." I don't think this statement means that there was something about Mary that can't be said of other faithful believers or even other faithful young ladies her own age or in her own town. Think about this, is it possible that God knew Mary's ordinary, day by day faithfulness and chose to ask her for the extraordinary?
Let's consider Joseph. His plan was to get married, have a family build a house and live the regular, ordinary life But that all changed when an angel came to him to tell him the new plan. After that encounter, Jesus responded in faithfulness. "Matthew 1:24-25 (NIV2011) 24 When Joseph woke up, he did what the angel of the Lord had commanded him and took Mary home as his wife.
25 But he did not consummate their marriage until she gave birth to a son. And he gave him the name Jesus." And even when it was time to leave and go to Egypt, Joseph was faithful when God told him it was time to go. We see the extraordinary actions of Joseph, but is it possible the extraordinary actions would not have happened if he had not been faithful in the day to day, ordinary life of faithfulness to god?
Also, consider the many 'One Hit wonders' in the Bible. So many people used by God in an extraordinary way, ONCE. They lived the day to day, ordinary life of faithfulness – and then God chose to guide them to the extraordinary.
Most people want to leave a legacy. We want to do something that really makes a difference. The message of the Bible is to be faithful to God in the day to day, ordinary faithful life and let God decide when or if we are called to the extraordinary. Luke 16:10 (NIV2011) 10 "Whoever can be trusted with very little can also be trusted with much…"
The following quote from DL Moody really sums things up: "The world has yet to see what God can do with a man fully consecrated to him. By God's help, I aim to be that man."
Don't worry about being extraordinary for God – life the faithful, day to day life of a disciple and let God worry about the extraordinary.
"Before Extraordinary There Is Ordinary"
By: Dr John Heading, Beavercreek Baptist Church